Introduction: How Does Vimeo Work
In today's digital age, video has become an integral part of our lives, and platforms like Vimeo have revolutionized the way we create, share, and consume video content. Understanding how Vimeo works is essential for both video creators and viewers, as it offers a unique set of features and functionalities that set it apart from other platforms. In this blog, we will delve into the world of Vimeo, exploring its purpose, features, and advantages over competitors like YouTube. We will explore What is Vimeo? what is vimeo app? How Does Vimeo Work? What is the difference between youtube vs vimeo.
What is Vimeo?
Vimeo is a popular online video platform that allows users to upload, share, and host videos. Founded in 2004 by a group of filmmakers, Vimeo has grown to become a leading platform for video hosting, creative portfolio showcase, and collaborative video projects. With its emphasis on high-quality content and professional-grade tools, Vimeo has carved out a niche in the market, catering to artists, filmmakers, businesses, and video enthusiasts.
What is vimeo app?
The Vimeo app is a mobile application that allows users to access and interact with the Vimeo platform on their smartphones or tablets. It provides a convenient and optimized experience for users who prefer to engage with Vimeo on the go. The Vimeo app differs from Vimeo in that it specifically caters to mobile users, offering a streamlined interface and features designed for mobile devices. With the app, users can easily capture, edit, and upload videos directly from their mobile devices, allowing for instant sharing of moments and creative content. It provides video editing tools, such as trimming, adding music and effects, and even supports live streaming capabilities, enabling users to create and share content in real-time.
By having a dedicated app, Vimeo enhances the accessibility and convenience of its platform, enabling users to engage with their favorite videos, discover new content, and interact with the Vimeo community, all from the palm of their hand. Whether it's capturing memories, documenting experiences, or showcasing creative work, the Vimeo app offers a seamless and mobile-friendly experience that complements the features and functionalities of the broader Vimeo platform.
How Does Vimeo Work?
Key Features and Differentiators
Vimeo offers a range of features that distinguish it from other video platforms. Unlike YouTube, Vimeo focuses on quality over quantity, prioritizing high-definition videos and providing a more polished viewing experience. It also places greater emphasis on privacy and customization options, allowing creators to maintain control over their content. With advanced video management tools, such as analytics and video performance tracking, Vimeo enables users to gain valuable insights into their audience and video engagement.
Understanding the Purpose of Vimeo
Vimeo serves various purposes and caters to diverse user needs. Let's explore some of the key uses of Vimeo:
Professional Video Hosting: Vimeo is widely used by professionals in industries such as filmmaking, advertising, and media production. Its robust video hosting capabilities and customizable player make it an ideal platform for showcasing high-quality work and sharing it with clients and collaborators.
Creative Portfolio Showcase: Artists, designers, photographers, and other creatives use Vimeo to build their portfolios and showcase their visual work. With Vimeo's clean and customizable player, users can create a professional presentation of their projects and attract potential clients and employers.
Collaborative Video Projects: Vimeo offers collaboration features that allow multiple users to work together on video projects. From client feedback and version control to project management, Vimeo provides a seamless environment for teams to collaborate efficiently.
Business and Marketing Tool: Many businesses leverage Vimeo for their marketing and promotional needs. Whether it's creating branded videos, hosting product demos, or running ad campaigns, Vimeo provides a versatile platform for businesses to reach their target audience effectively.
Exploring the Vimeo App
Vimeo's mobile app extends its functionality beyond the desktop experience. The app allows users to capture, edit, and upload videos directly from their mobile devices. It provides features like video trimming, adding music and effects, and even offers live streaming capabilities. The Vimeo app enhances the convenience and accessibility of the platform, allowing users to create and share content on the go.
The Power of Vimeo: What Does Vimeo Do?
Vimeo offers a comprehensive set of tools and functionalities for video creators and viewers:
Uploading and Sharing Videos: Vimeo allows users to upload videos in various formats and customize the privacy settings to control who can access their content. It provides options for password protection, private links, and embedding videos on websites or social media platforms.
Video Customization and Privacy Settings: Vimeo offers extensive customization options, allowing users to design their video player, add logos, and create custom end screens. Creators can also set specific privacy settings to restrict access to their videos.
Integration with Websites and Social Media Platforms: Vimeo provides easy integration with websites and social media platforms, enabling seamless sharing and embedding of videos. It offers embed codes and APIs that allow users to showcase their videos anywhere on the internet.
Analytics and Video Performance Tracking: Vimeo provides detailed analytics that help creators gain insights into their video's performance. Users can track metrics such as views, engagement, and geographical distribution, allowing them to refine their content strategy and target their audience effectively.
Monetization Options for Content Creators: It is important to know that, how does vimeo work and how its monetization system work. Vimeo offers monetization options for content creators through its Vimeo On Demand and Vimeo OTT services. Creators can sell or rent their videos, create subscription-based channels, or offer paid access to exclusive content, providing an additional revenue stream.
Youtube vs Vimeo: A Comparison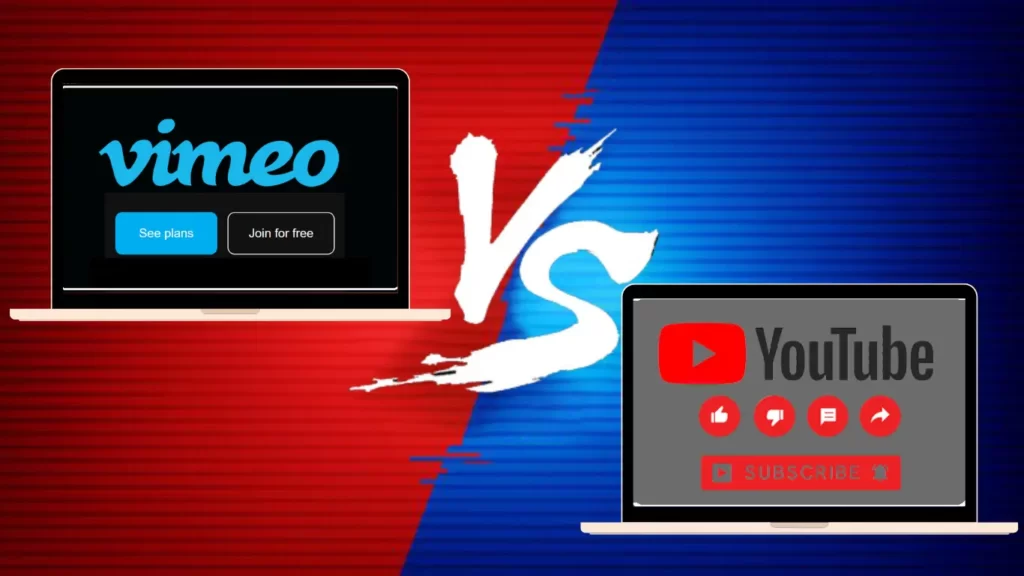 While Vimeo and YouTube are both popular video platforms, they cater to different needs and audiences. Here are some differentiating factors between the two:
Quality and Curation: Quality is also one of the major difference we we compare youtube vs vimeo. Vimeo focuses on high-quality videos and curated content, attracting professional creators and artists. In contrast, YouTube accommodates a wide range of content, including user-generated videos, vlogs, and entertainment.
Privacy and Customization: Vimeo offers more robust privacy settings and customization options, allowing creators to maintain control over their content and tailor the viewing experience. YouTube provides limited customization and has a more open approach to content accessibility.
Community and Discoverability: When comparing YouTube vs Vimeo, it's important to consider the size and nature of their respective communities. It ultimately comes down to understanding how Vimeo works and assessing your specific needs as a content creator. YouTube has a larger user base and offers more significant opportunities for content discovery. It has a vibrant community of creators and viewers, fostering engagement and interaction. Vimeo, on the other hand, fosters a smaller but highly engaged community of professionals and artists.
Choosing the Right Platform for Specific Needs
When comparing YouTube vs Vimeo, it's crucial to weigh the factors that align with your specific needs and goals as a creator. Creators seeking a professional showcase or collaboration platform may find Vimeo more suitable, while those aiming for maximum reach and discoverability might prefer YouTube. It's essential to consider factors such as content type, target audience, and desired level of control and customization when selecting the platform that aligns best with specific requirements.
Exploring Vimeo Moose and Zee
Moose and Zee are animated characters introduced by Vimeo to make the video creation process more engaging and user-friendly. Moose serves as the video upload guide, while Zee assists with video editing and customization. These characters add a touch of personality to the Vimeo experience, making it more enjoyable and accessible, especially for new users. Exploring Vimeo Moose and Zee more here.
The Charm of Vimeo Beach
Vimeo Beach is a metaphorical concept that symbolizes the vibrant community and creative spirit of Vimeo. It represents a space where users can connect, learn, and collaborate. Vimeo Beach fosters community engagement through forums, workshops, and events, encouraging knowledge-sharing and networking among like-minded individuals. There are other platforms too that boast active communities. TikTok Ads plays a significant role in effectively targeting audiences.
Joining Vimeo: How to Create an Account on Vimeo?
Vimeo create account is the first thing that comes into mind. Creating a Vimeo account is a straightforward process:
Visit the Vimeo website or download the mobile app.
Click on the "Sign Up" or "Create Account" button.
Provide the necessary information, such as name, email address, and password.
Customize your profile by adding a profile picture, cover image, and bio.
Explore the account settings and privacy options to personalize your Vimeo experience.
Start uploading and sharing your videos or discover and engage with the vibrant Vimeo community.
Conclusion
Here we conclude how does vimeo work. When comparing YouTube vs Vimeo, it's important to understand the distinct advantages that Vimeo offers to creators, artists, businesses, and video enthusiasts. Understanding how Vimeo works opens up a world of opportunities for creators, artists, businesses, and video enthusiasts. With its focus on quality, customization, and community engagement, Vimeo provides a unique platform for hosting, sharing, and monetizing videos. By exploring Vimeo's features, understanding its purpose, and comparing it with other platforms like YouTube, users can leverage its power to meet their specific needs and achieve their video-related goals. So, dive into the world of Vimeo, unleash your creativity, and make your mark in the digital video landscape.